During all of December we have some great romance steals for every type of reader.  We're excited to welcome Diane Alberts who is sharing a yummy candy cane mimosa recipe and be sure to check out Catching the Player on sale for just 99¢!
*****
Hello, I'm Diane Alberts, and I'm here today to celebrate the ah-mazing sale that Entangled Publishing is having—who doesn't love a good deal at Christmas time, am I right? But, you know, sometimes you don't get those amazing sales, and what helps drown out the Christmas budget blues? Well, booze, of course.
In particular?
This delicious candy cane mimosa recipe I found online!
Seeing those zeroes in your bank account won't hurt too much when you're sipping on these delectable bad boys. Just turn on the Christmas music or Hallmark Movie Channel, put those fuzzy-cocked feet up, grab an Entangled Publishing book that's on sale, and follow these simple directions below to lose yourself in peppermint mimosa bliss.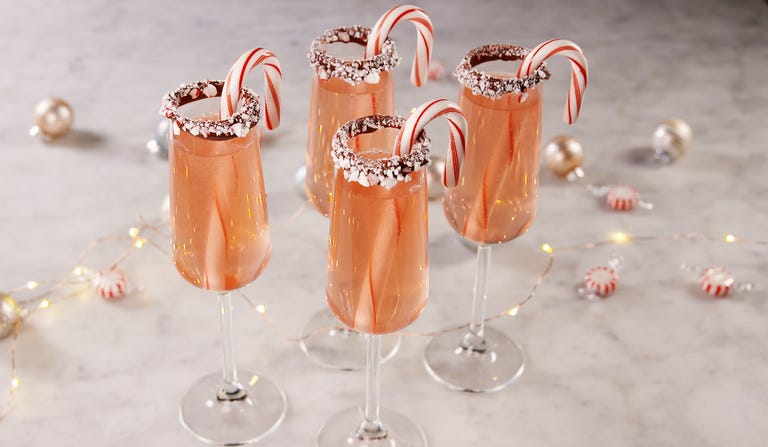 INGREDIENTS
1/4 c. semisweet chocolate chips, melted
3 candy canes, crushed
6 oz. peppermint schnapps, divided
1 bottle champagne or prosecco
6 candy canes, whole
DIRECTIONS
Pour melted chocolate onto a small plate. Pour crushed candy canes onto a separate plate. Dip rims of champagne flutes first in chocolate, then in crushed candy canes to coat.
Add an ounce of peppermint schnapps to each glass, then top with champagne or prosecco. Garnish with full candy canes before serving.
ENJOY!
*****
Catching the Player by Diane Alberts
On sale for 99¢!
When Kassidy Thomas decided to stop hiding behind her past, and start living, she didn't quite bet on that start including her singing a horrible song in front of the handsomest bachelor in the NFL, Wyatt Hamilton. She also didn't think he'd then ask her out on a date, but turns out when you're actually living life…crazy things happen.
Wyatt is a player in every sense of the word. Married to the game, he has no interest in relationships, love, or even second nights with the same woman. But from the moment the girl-next-door beauty Kassidy knocks on his door to deliver a singing telegram, nothing goes as planned. He can't stop thinking about her, and he keeps showing up on her doorstep for more, even though he knows he shouldn't. Because as hard as she is to resist, falling for her could cost him everything.