Author Top 5 – Best Female Friendships in TV
Liana De la Rosa
I've had several best friends in my life, who helped me through various stages, some challenging, some emotional, and others joyous. Each has helped define who I am as a person, and while I have only kept in touch with a small few, all of them hold a special place in my heart. Random tidbit: my best friend was with me the night I met my husband. Seven years later, she married his brother after meeting him at our wedding. So my lovely friend I met my sophomore year of high school is now my sister-in-law!
In To Resist A Scandalous Rogue, the heroine, Charlotte, is blessed to have a loyal, fierce friend in Lady Flora Campbell. Life has taught Charlotte not to trust anyone but herself…until Lady Flora (and Finlay, the hero) teach her she's no longer alone. So in celebration of BFFs, here are my top five best friendships from TV.
The Golden Girls from

The Golden Girls

– In their pastel suits and coral lipstick, Dorothy, Rose, Blanche, and Sofia bickered and ribbed each other for every offense, but in the end they defended and helped each other when it mattered most and they made us laugh along the way.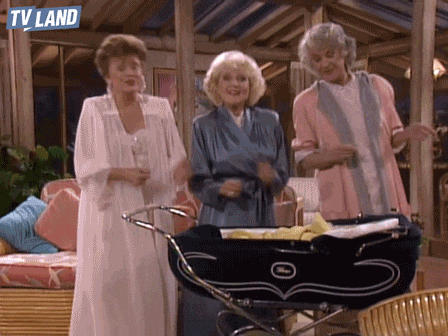 Grace and Frankie from

Grace and Frankie

– After years of silently tolerating the other for the sake of their law partner husbands, Grace and Frankie experience personal heartache in the same shocking moment. It's the catalyst to their friendship, a ride or die bond that spans being roommates, entering the dating scene, creating a business together, and every family issue in between.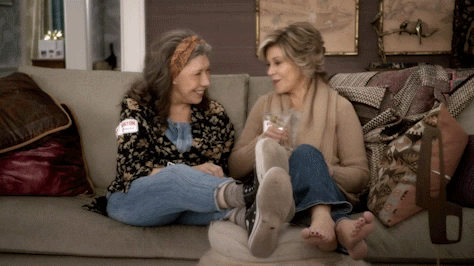 Kimmy Schmidt and Titus Andromedon from

The Unbreakable Kimmy Schmidt

– Kimmy and Titus' friendship breaks all the molds because it redefines the gay best friend. With almost as much screen time as Kimmy, and with his own subplots, Titus supports Kimmy just as much as she supports him. And rather than disappearing from the screen once he's helped Kimmy understand a world that still confuses her, we get to see Titus don his best

Hold Up

outfit, pick up a bat, and go off to take care of his cheating boyfriend (spoiler: the boyfriend is not cheating).
Meredith Grey and Cristina Yang from

Grey's Anatomy

– When the stress of residency at Seattle Grace Hospital became overwhelming, their relationships imploded, or they lost a patient on the operating table, Meredith and Cristina had each other. They showed that your "person" didn't have to be a romantic interest, but a BFF who always had your back.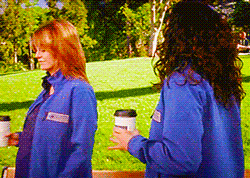 Leslie Knope and Ann Perkins from

Parks and Recreation

– Leslie may have forced friendship on Ann in the beginning, but the pair quickly grew to be best friends of the highest order. Leslie's funny compliments for Ann have become iconic ("Oh Ann, you beautiful tropical fish.") but their bond became the ultimate #FriendshipGoals. When Leslie ran for City Council, Ann was her first campaign manager…although she did not know what she was doing. When Ann wanted to have a child on her own, Leslie helped her sort through donors (with hilarious results). These are two friends who truly loved each other and it showed.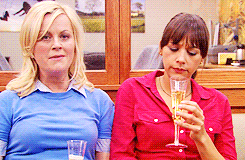 For Finlay Swinton, Viscount Firthwell and only son of a powerful earl, life has been a lark…until he discovers a terrible family secret that could ruin him. Determined to make a name for himself free of scandal's shadow, he runs for Parliament. However, he encounters Charlotte, the mysterious woman who disappeared after their one night together, and he finds it impossible to stay away, despite her working class status and Jewish faith that threaten to destroy his chance for success.
Widowed, penniless, and desperate, Charlotte Taylor secures a teaching position at a foundling home and relaxes into a predictable existence. That is, until Finlay, the man she shared one romantic night with, reappears, a specter from her past. He ignites her passion, even while he threatens the precarious foundation on which she's rebuilt her life. But when those from her past return to endanger her hard-earned security, she'll have to reveal his secret or go to prison.
Liana De la Rosa is a historical romance writer whose stories are set in the Georgian and Late Regency periods. As a longtime fan of the romance genre, Liana can remember sneaking Harlequins into her bedroom to read on the sly. After her second child was born, her husband challenged her to write her own book and she's been writing ever since. Liana is a proud graduate of the University of Arizona and enjoys cheering on her alma mater in all things (BEAR DOWN!). When she's not writing witty heroes, saucy heroines, and secondary characters screaming for their own stories, she's a wannabe domestic goddess and fashionista who wrangles a rambunctious brood of small children with her patient husband in Arizona.
About Author