I didn't get to know the beauty of western Massachusetts until college. Born in eastern Mass, I moved with my family to Florida when I was only three, and I grew up on the untamed sandy flatlands of the Gulf Coast. Right before I started high school, we moved back to my birthplace, Fall River — mill town home of the infamous Lizzie Borden, who coincidentally is buried half a mile from the house where I spent my teen years.  But for college, I left the coast and went inland, and have stayed in western Massachusetts ever since.
For the Comes in Threes series, I invented the town of Mapleton, a fictionalized version of Northampton, Massachusetts. All the shops, streets, and events are made up, but I took significant inspiration from this quirky college town nestled in the Deerfield river valley.
Northampton made the National Enquirer in 1992 as "Lesbianville, USA," and indeed, the town has a high LGBTQ+ population. The local slogan is "Where the coffee is strong, and so are the women." (It's even hung up on the parking garage.)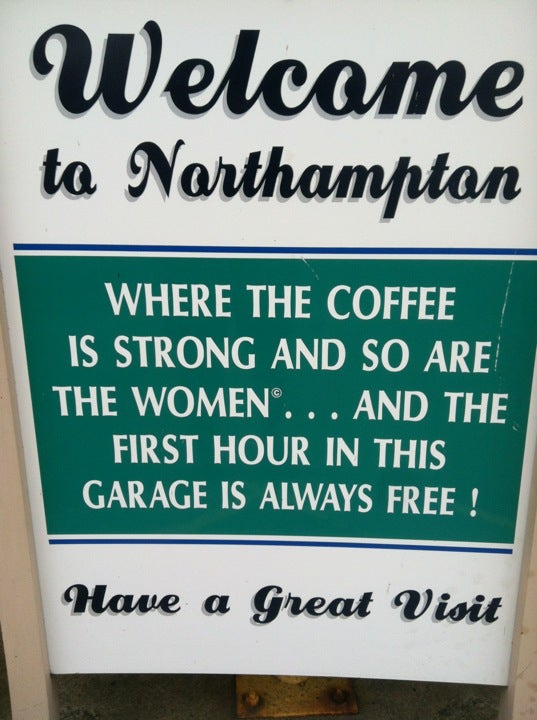 Since my series is about polyamorous relationships in various forms, I wanted to set these books in a place open to sexual minorities and non-traditional relationships structures. Northampton has small-town feel and a liberal aesthetic, part of why I love it.
The other reason I love Northampton — also known as Noho, or Hamp — is the shops themselves. If you're in the area and looking for sex toys or kink products, you can't go wrong with the Oh My Sensuality Shop, run by a mother-daughter team. Oh My has a fabulous selection of products in a cozy, warmly-lit space, and they buy from a number of local artisans and vendors.
Want more traditional shopping opportunities? Step into Thornes Marketplace, a 3-story indoor mall. The Thornes building started as a dry goods store in 1873 before expanding into a department store, and then was converted in the late 1970s to its current form. The shiny hardwood floors, tin ceilings, and distinctive "Thornes Marketplace smell" make it a delightful sensory experience. You can buy everything from bath bombs to jewelry to fresh flowers in Thornes, and no visit to Noho is complete without stopping by.
Finally, Noho is a wondrous haven for food. I love getting a pastry and a London Fog at the Patisserie Lenox on Main St, and grabbing dinner at either Viva Fresh Pasta (for sweet potato ravioli) or Local Burger (for Cap'n Crunch Chicken Tenders). For dessert, Herrell's ice cream has the original mix-ins and a ton of homemade flavors that change daily. Be warned, though: in the summer, the line might stretch out into the street, but they're open until midnight, so you won't miss out.
Northampton is a gem of a town in the midst of a beautiful New England setting, and it's well worth the drive if you find yourself in the northeast. No matter the season, Noho has something delightful in store, and I hope you get to make a visit someday.
Hannah Stewart knows what she likes, and it doesn't include relationships. She has enough on her plate with her fledgling adult novelty shop, Yes Please. But even with an arsenal of sex toys at her disposal, she's hit a dry spot—one she wishes the sexy Mitchell Fredericks would help her out with.
There's just one snag. His sexy roommate and business partner, Ben Harrington.
The last thing she wants to do is come between their friendship—even though she'd like to come between them in other ways. Instead, she comes up with a proposition for them, one that might lead to a very hot, very unexpected outcome.
Elia Winters holds a degree in English Literature and teaches at a small rural high school where she runs too many extracurricular activities. She balances her love of the outdoors with a bottomless well of geekiness; in her spare time, she is equally likely to be found skiing, camping, playing tabletop games, or watching Doctor Who. A writer all her life, Elia likes to dabble in many genres, but erotic romance has been one of her favorites since she first began sneaking her mother's romance novels. She currently lives in New England with her loving husband and their odd assortment of pets. Find out more at EliaWinters.com and follow her on Twitter @EliaWinters.