It's Romance Awareness Month and we're dishing all month long about everything romance related. Today Shannon Lee-Alexander shares with us her top 5 picks for most adorable YA meet cutes.
I am a huge fan of the Meet Cute, that adorable, awkward, endearing moment when two characters meet in a story and you just know there is something important happening between them. Meet cutes are full of potential, hope, and possibility—emotions I crave when reading any book, let alone romances.
Cath and Levi in FANGIRL
Admittedly, I am of the belief that every scene containing Cath and Levi from Rainbow Rowell's FANGIRL is beyond freaking adorable. It's hard for me to contain my giddiness when it comes to FANGIRL.
Bonus points because Cath and Levi have a meet cute just moments before she and her roommate Reagan meet cute. Double meet cute!
I think friend meet cutes are as important as romantic ones. We all remember the moment Harry Potter met Ron Weasley. I mean you knew right then and there, just as they were swallowing their first-day fears and charging through brick walls together, this would be an important relationship in Harry's life. How cute are little Harry and Ron?!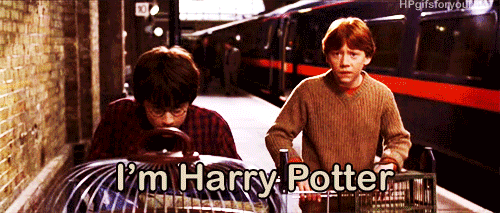 Actually, FANGIRL gets a triple meet cute award because at the end of the first chapter we see Simon and Baz meeting for the first time, and admittedly, it's the Gemma T. Leslie version of Simon and Baz, but that tension and awkwardness and squeezing feeling in your gut are all there nonetheless.
Basically, FANGIRL is a story told in a series of more and more adorable meet cutes. All the yesses from me!
Eliza and Wallace in Eliza and Her Monsters
The thing about Eliza and Wallace in ELIZA AND HER MONSTERS is that they met and became admirers of each other way before they met IRL. They even start flirting online in fan forums before they flirt in real life. Their online meet cute left me grinning from ear to ear.
Eliza and Wallace don't click quickly when they first meet at school. They are both too awkward and shy and wrapped up in each one's own imagination. Their real life relationship takes longer to develop, which makes this the most real meet cute in my book. Let's face it a lot of us are just horrible at face to face communication. 😉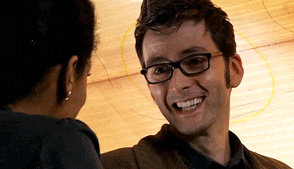 Noah and Brian in I'll Give You the Sun
Noah and Brian's meet cute in Jandy Nelson's I'LL GIVE YOU THE SUN makes my heart explode with colors and starlight.
The best part is that when they meet, Noah says absolutely nothing to Brian. Not. A. Thing. They walk home through the woods, as Brian picks up and pockets bits of fallen stars, saying nothing. And it works! My goodness, how this scene works!
Jandy Nelson's beautiful characterization of Noah's creativity and incredible imagination make this scene so memorable.
Cora and Finn from Tracy Clark's SCINTILLATE
What's cuter than an Irish exchange student, complete with dashing accent, a dimple, and cool tattoo, Candy Striping and delivering flowers to sick patients in the hospital?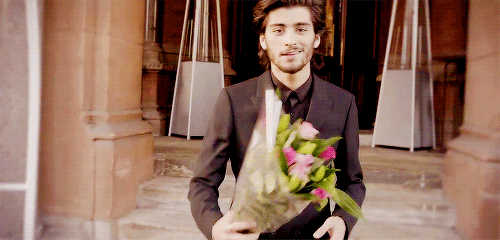 (Okay, he's pretty cute, but you can't hear an accent in a gif. One point for Finn the Irish exchange student!)
When Cora, in Tracy Clark's SCINTILLATE, wakes from a feverish sleep in her hospital room, that's exactly what she finds. This is a meet cute complete with a side of insta-hate because Finn hangs with the popular kids that Cora can't stand. She's less than pleasant to him, but he takes it in stride.
You know when he leaves with a line like, "Your eyes remind me of home," they won't hate each other for long.
Madeline and Olly from Nicola Yoon's EVERYTHING EVERYTHING
Madeline and Olly see each other for the first time as he's moving in to the house next door to hers. Madeline is a young woman with very limited experience with the real world. Her reaction to Olly's big grin has me like…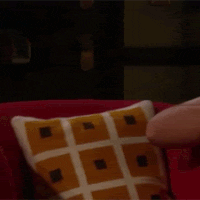 And their interactions just get cuter and cuter from there. I was convinced this story would break my heart when I first started reading EVERYTHING EVERYTHING, but in the end it left me with a smile and a lightness in my soul.
I could go on and on about meet cutes. On and on and on. There are so many to choose from.
What are some of your favorite YA meet cute moments?